The NPD Group, an American market research company, has dropped a bunch of sales data on Twitter, and what stands out the most to us is the chart below, which compares the 20 top-selling games for the decades spanning 2000-2009 and 2010-2019.
This new data shows that the Call of Duty franchise accounts for seven of the top-ten best selling games of the last decade, and for ten of the top twenty. Not only did Call of Duty completely dominate the decade, but the first-person shooter genre it represents commands an even wider majority, with series like Battlefield and Destiny filling in the gaps.
In fact, of the top twenty games, only six are not shooters.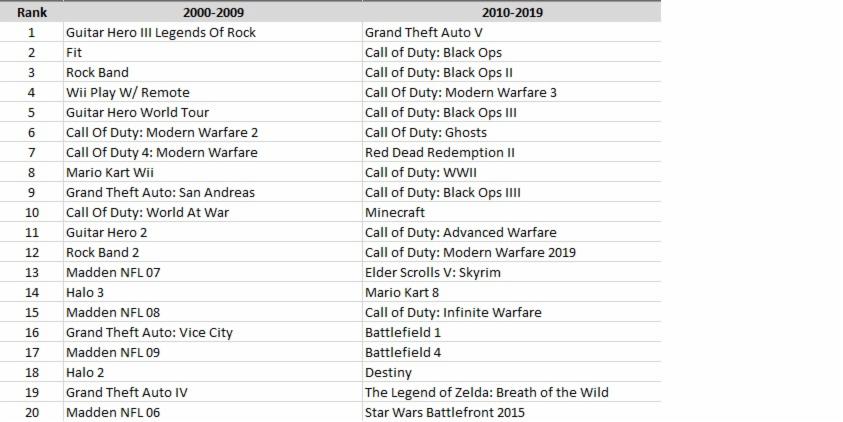 First, let us start by saying we think that doomsaying is premature and a bit reductive. Many Twitter users lamented the new figures, proclaiming the last decade in gaming to be "mindless" and "shallow", but taking a look at 2000-2009 shows that "casual" games have long dominated the market.
Rhythm games like Guitar Hero and Rock Band played a major roll in the previous decade (2000-2009), with shooters and sports games filling a healthy majority of games sales otherwise. These stats show that highly respected, story driven games have always accounted for a relative minority in sales, and given what we know about current market trends, these stats are part-and-partial of the growth of gaming as a mainstream entertainment medium.
As we've previously reported, the highly casual mobile market accounts for a majority of gaming revenue now and it's likely that trend will continue. NPD Group recently reported that while the number of mobile gamers in the U.S. and Canada has experienced a slowdown in growth, it is still growing.
The two countries are home to 214.1 million mobile gamers, which represents a 5% decrease in growth rate compared to the 2017-2018 period. The NPD Group attributed this to a saturated market for mobile devices. It's hard to add new mobile gamers when everyone already has a phone.
Regardless, while mobile growth slows, mobile revenue continues to climb. The slowed momentum still represents a 2% year-over-year growth in mobile gamers overall, and an overall increase in revenue of 24% percent. Fitting with the trend of casual gaming domination, 56% of 2019's mobile revenue was attributed to three genres: puzzle, skill & chance, and strategy.
With Call of Duty making a hit debut on mobile platforms, the series is aiming to capitalize on the hugely expanded mobile market, which would allow it to continue going strong as the market and the industry adapt to a new playbook.